Premium Charcoal Lighters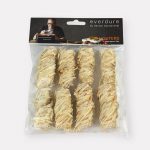 Premium Charcoal Lighters
Fire up the BBQ with the Premium Charcoal Lighters from Everdure by Heston Blumenthal. Use the lighters with the CUBE™ portable charcoal BBQ to help the charcoal light. The lighters are made with natural, ecological FSC® approved wood. They are easy to light without the need for lighter fluid.
Features:
100% Natural Ecological FSC wood fibres with wax.
Easy light.
Suitable for a fireplace, oven, stove, wood heating, logs and BBQ.
Does not require additional lighter fluid.
Reviews
1-3 of 119 Reviews
star star star star star
Andrew Smith
07/12/2019
Ridiculously Convenient
So content with my purchase! I have already used it a few times and it has been so handy on picnics and camping trips! I'd recommend to anyone looking for an adventurous summer with delicious food.
star star star star star
Penny Andrews
10/12/2020
Best gift ever!
My family knows how much I adore having loved ones around and cooking up a storm - so they know just what to get me when I was given the 4K! So sleek and intricately designed, the quality is ridiculously good.
star star star star star
Brooke Yanz
24/07/2020
Dad absolutely loves his new 4K
After doing my research I decided to buy the 4K as Dad's fiftieth present. Let's just say he is truly in love. I can only speak from my experience, but the quality of food created from this barbeque is like no other.